View all available pals on Petfinder and Adopt-a-Pet: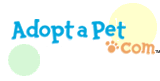 Meet one of the most wonderful dogs that's ever been at Special Pals. Lucy was on death row when we found her at the pound, trembling in a corner.  This sweet little girl has been through so much, including treatment for skin problems and heartworms. After 6 long years at Special Pals, Lucy finally found her forever home. Congratulations, Lucy!
Complete the animal adoption application.  
Special Pals Shelter accepts cash, Visa, and Mastercard. We do not accept checks.
Adoption questions?  Email us.